Lehman College's School of Continuing Education Wins Prestigious International Award for "Best Digital Marketing Platform in Continuing Education in 2019"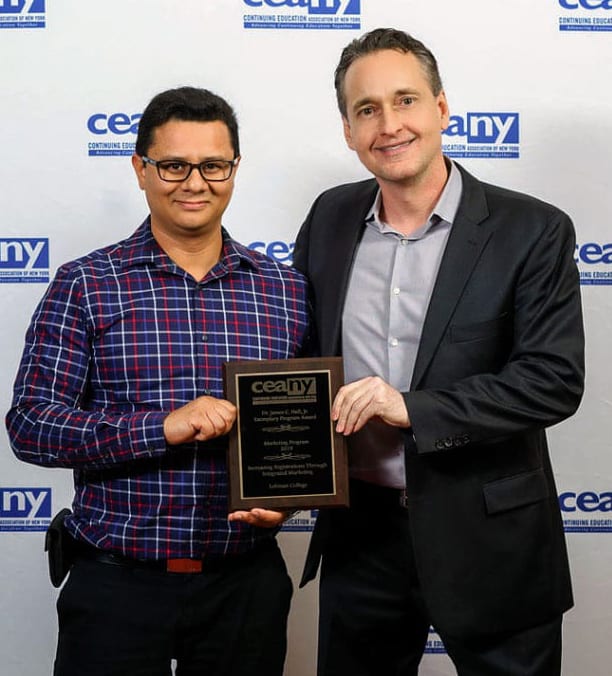 November 12, 2019 – New York, NY
Lehman College's School of Continuing Education and Professional Studies (SCPS) has won a prestigious higher education award from "The Learning Resources Network (LERN)," the world's largest association in continuing education and lifelong learning. The CUNY school, located in the Bronx, New York City, received the International Award for "Best Digital Marketing Platform in Continuing Education in 2019".
SCPS partnered with Lehman's web services team in Winter 2018 to begin planning for an integrated website redesign, new online registration system, and digital marketing platform. The team set out to re-imagine SCPS's digital customer experience and strategize how the website and marketing channels may serve as an engine for sustainable revenue growth and new capabilities.
As a result, the school launched the new digital platform in summer 2018. Over 3-4 months, direct website traffic from Google search engine's (SEO) and inbound marketing campaign's expanded the school's digital footprint. Local SEO propelled new student lead generation, increasing website traffic by over 150%. The team used data analytics to perform in-depth market research. It developed customer profiles and journey maps to reduce digital pain-points and facilitate a more seamless online customer experience across all touchpoints. They conducted extensive user testing with diverse groups of stakeholders to measure website and digital campaign effectiveness.
Lead UX Designer David Stevens – now Chief Strategy Officer at Digital Jibe Agency – led the User Experience design and development for the website project. Using the stakeholder feedback, he led the agile development team through a series of incremental enhancements on the site and registration system. The team's efforts produced a highly personalized, well-targeted, and seamless digital customer journey, resulting in a 40% increase in online registrations – and 33% overall – since launching the project.
"This was a model collaboration and a truly innovative effort," said Dr. Goher Murtaza, the school's Director. "We've doubled our website traffic, and our online registrations are up 40% year-over-year. David Stevens and his team clearly understood our business goals and challenges. They designed, developed, and delivered a world-class website and digital platform that far exceeded the ROI we first envisioned. Being recognized with an International Digital Marketing Award in Continuing Education is a great honor for our hard-working and visionary team. It's a great victory for the entire Lehman College community."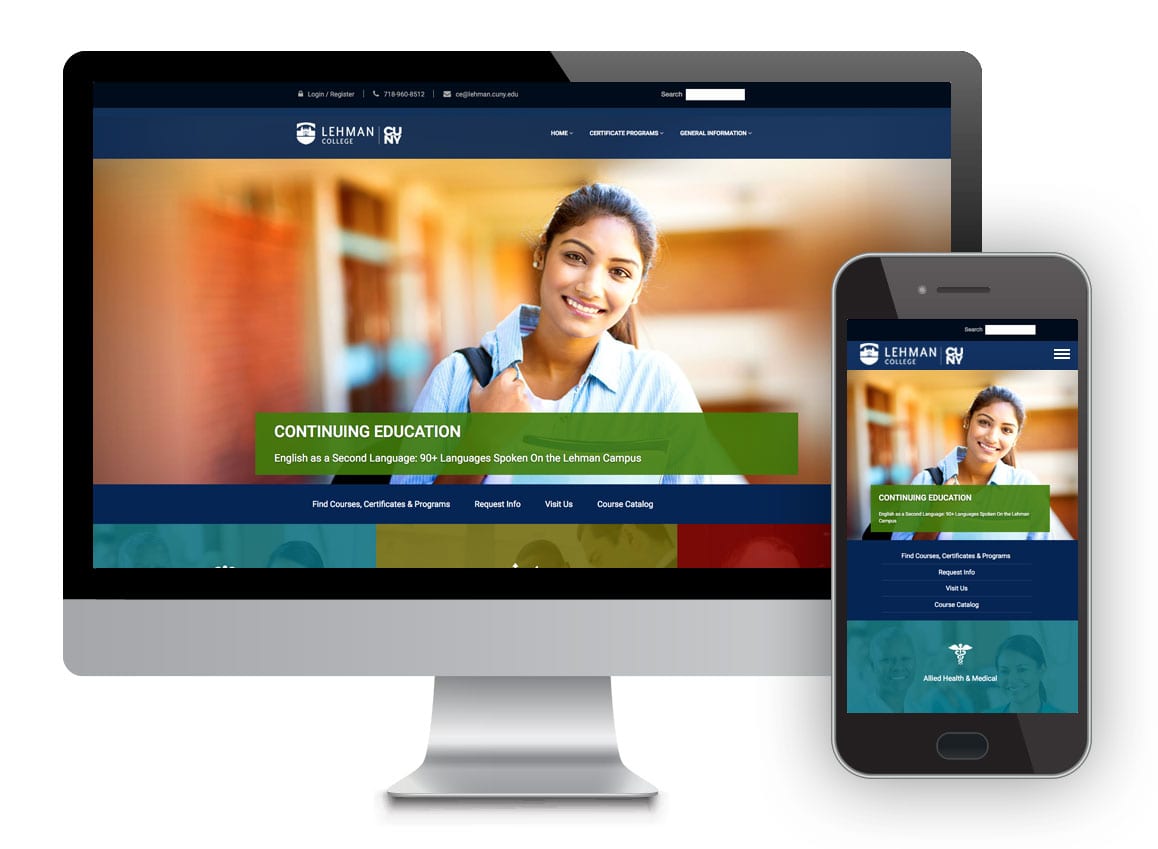 Lehman College's School of Continuing and Professional Studies (SCPS) offers professional certificate preparation courses and recreational activities for both adults and children. The SCPS contributes a vital role in supporting Lehman's mission, including providing skills training for underrepresented populations in the Bronx and New York City. The school's programs have contributed to economic mobility for New York City and Westchester residents. They have catalyzed innovative technology initiatives and business vitality in the region.
About Us
Digital Jibe is an award-winning New York-based, full-service Digital Agency specializing in Website Design, Development, and Internet Marketing. Driven by data and Design Thinking, we strive to reimagine new models of value creation tailored for delivering ROI in the era of digital. Learn more about us or schedule a consultation and speak with our Director of Customer Success David Stevens about your project and goals.
Other Awards
Contact Us
Our press team loves working with journalists around the world to share compelling, unique stories. If you're a member of the media and would like to talk, please contact us or send an email to [email protected].