Lehman College School of Continuing Education
Increasing Revenue by Removing Digital Friction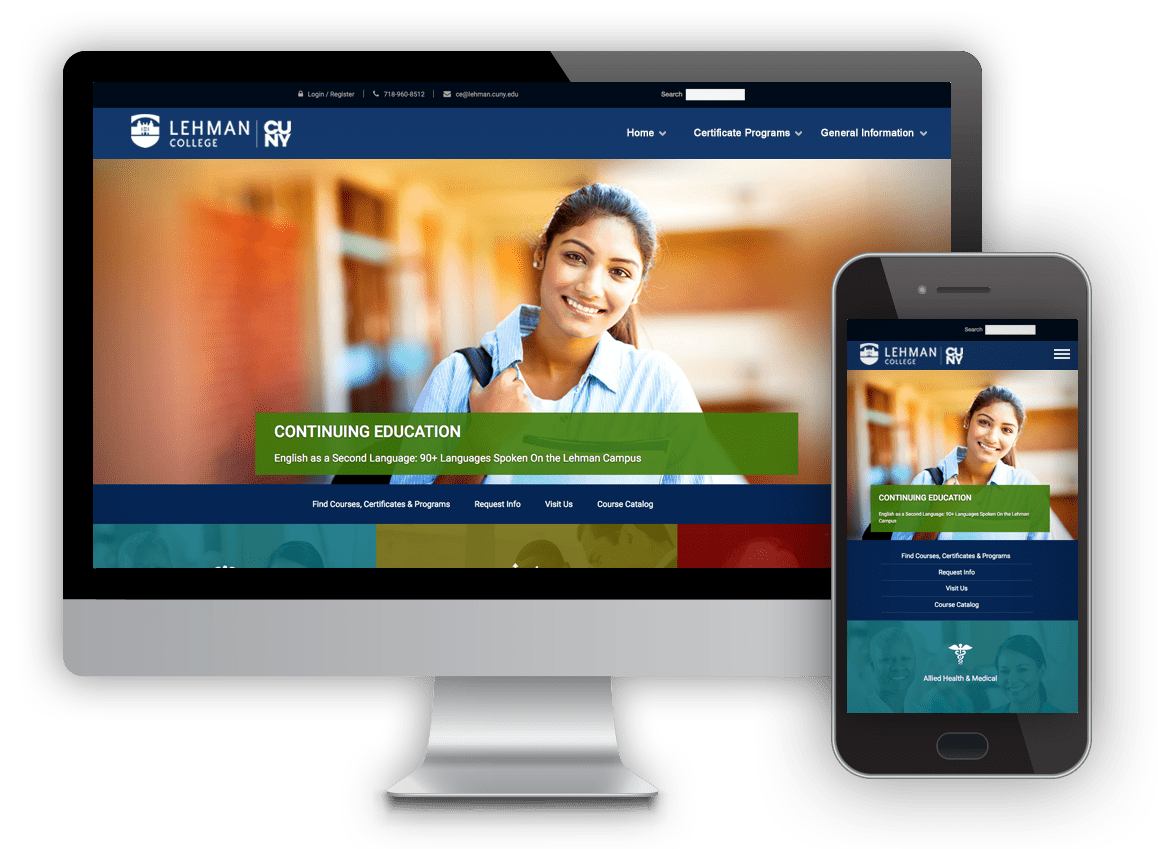 Case Study
In the Spring of 2018, Lehman College's School of Continuing Education and Professional Studies set out to transform the digital customer experience and conceptualize how the website and digital marketing channels may serve as an engine for generating new revenue streams, sustainable business growth, and new capabilities.
We partnered with the school and embarked on a comprehensive plan to create a dynamic site experience that promotes the unique attributes of the school as an engine of economic mobility for Bronx, New York City, and Westchester residents.
Our creative strategy was to create a clean and modern website design that allowed for an emotionally impactful experience, providing clear pathways for prospective students to discover key information.
We conducted in-depth market research of top-ranking CE programs, developed customer profiles and journey maps, and engaged students and stakeholders in extensive end-user and usability testing.
We used modular design elements to allow for greater flexibility and customization of content throughout the site, and our agile approach provided a clear path forward for tackling digital strategy execution, while also allowing for flexibility to update and iterate as the internal and external environment changed.
We launched the platform in the summer of 2018, and within 4-6 months our SEO and inbound marketing efforts expanded the school's digital footprint, driving lead generation and increasing website traffic by over 150%. Our efforts resulted in a year-over-year increase of 33% in online registrations, beating KPI targets and achieving significant ROI gains for the college.
In November of 2019 Lehman College's School of Continuing Education and Professional Studies was announced as the winner of the LERN 2019 International Award for Best Digital Marketing Platform in Continuing Education.
The website redesign and digital marketing campaign have transformed the school's digital customer experience, serving as an engine for sustainable business growth and new revenue streams.
"This was a model collaboration and a truly innovative effort", said Dr. Goher Murtaza, the school's Director. "We've doubled our website traffic and our online registrations are up 33% year-over-year. David Stevens and his team clearly understood our business goals and challenges, and designed, developed, and delivered a world-class website and digital platform that far exceeded the ROI we first envisioned."
Lehman College's School of Continuing and Professional Studies (SCPS) offers professional certificate preparation courses and recreational activities for both adults and children. The SCPS contributes a vital role in supporting Lehman's mission, including providing skills training for underrepresented populations in the Bronx and New York City. The school's programs have contributed to economic mobility for New York City and Westchester residents and have been a catalyst for innovative technology initiatives and business vitality in the region.
We've seen a 32% increase in online registrations, and a 22% increase overall. Our website is polished, professional, and functional. Our programs are thriving!
Annual Increase in Online Registrations
Annual Increase in Overall Registrations
Monthly Leads from Contact Form
Monthly Leads from Live Chat